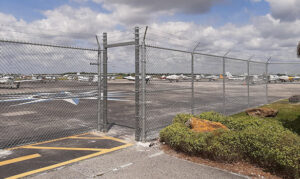 When looking to install a fence for your business, there are tons of options available- small companies, large companies, new companies, old companies, companies that do both residential and commercial work, and companies (like ours) that only focus on commercial installations. It may seem impossible to make a choice! Here are the top 5 reasons to choose a commercial fence company like Fence Masters for your project in Miami, the Florida Keys, Broward, and the surrounding areas:
1. Expertise- A commercial fence company has the knowledge and expertise to install the right type of fence that will stand up to commercial use. A commercial fence company also has the ability to install many types of fences, from standard chain-link to military-grade anti-terrorism barriers. A commercial company will have access to all the tools and equipment necessary for even the toughest commercial installation and finish your project on time.
2. Quality- A commercial fence company like Fence Masters will use high-quality materials to ensure your fence lasts for many years. While smaller or residential companies may use less expensive materials, these materials are also lower in quality and will not last as long. Fence Masters will also ensure that the fence is installed properly for a commercial application, which will prevent damage or accidents from occurring.
3. Cost-effectiveness- Hiring a commercial company may cost a little bit more up front, but can actually save you money in the long run. High-quality products meant for commercial use will last much longer than residential-grade materials and will guarantee that your fence will last much longer than cheaper options. Fence Masters can help you select th4e best fence for your needs and budget, and also offer maintenance and repair services to keep your fence in top condition.
4. Time-saving- Installing a fence can be a time-consuming process, especially if you don't have the right tools and experience. A commercial fence company like Fence Masters can get the job done quickly and efficiently, which frees up your time to focus on other tasks. Fence Masters is experienced in working within tight timeframes and can make sure you meet all your project deadlines.
5. Safety- Fence Masters will take all necessary safety precautions during the installation process to ensure that no accidents or injuries occur. Safety is a critical factor to consider when it comes to installing fence on commercial property, and it is essential to hire a professional fence company to ensure that the fence is installed safely and securely. A few of the safety measures Fence Masters will take during the installation process include thorough site preparation, identifying and marking any underground utility conflicts, using proper safety equipment, compliance with all relevant safety regulations and codes, and ensuring all of our employees are OSHA-trained.